We have restarted the build of the Mayflower bonfire and she is really starting to look fantastic with the backdrops / quay being progressed and some buildings to give it depth. In the next few weeks the 2 of the roofs will be thatched by our local friend and thatcher Toby Rose.
Toby Rose Thatchers 01769 560100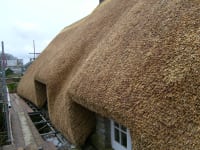 Just to remind you that the new date for the bonfire is Saturday 28th August 2021 and tickets are on sale NOW via:
for a limited time at Duffy's Home Hardware in Torrington Square
NB this will be a ticket only event this year with NO tickets on sale on the day so please get your tickets early to avoid disappointment!
Due to the age of us all and environmental issues there is a high chance this will be the last major bonfire that we will do!
Please see the latest photos taken at the weekend below: